ShuffieldLowman's Janet E. Martinez Wins Hispanic Achievement & Business Leadership Award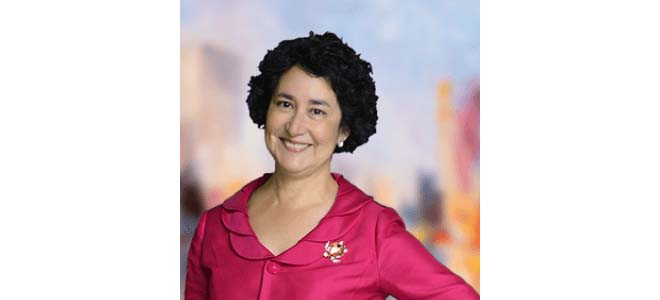 ORLANDO, FLORIDA – ShuffieldLowman proudly announces that seasoned firm attorney Janet E. Martinez recently received the "Unsung Hero" award at the annual Hispanic Achievement & Business Leadership Awards (HABLA) ceremony held October 3 in Orlando. In addition to Martinez, other local business leaders received awards, and a deserving high school senior received an HABLA scholarship at the event. The annual HABLA ceremony takes place in four different markets: Orlando, Florida; Houston, Texas; Charlotte, North Carolina and Atlanta, Georgia. HABLA is a tribute to Latino business and civic leaders and highlights the Hispanic communities many successes. HABLA serves as a highlight to Hispanic Heritage Month, which runs through October 15.
"With this event, we want to do two things, develop youth scholars and recognize the force of business and civic leaders in the Latin community," said the Argentinean, Mariano Legaz, President of Verizon (Florida). "The combination of giving a scholarship together with awards and recognition to community leaders serves to remind the Hispanic community that we need more leaders." Martinez, of Mexican descent, offers her legal services pro bono to the Alianza de Mujeres Activas, Inc., an organization in Northwest Volusia County which provides health education and community outreach to fern-working women and children. In addition, she contributes extensively to the Hispanic community-at-large. She currently serves as: an executive committee member and legal advisor for the Hispanic Chamber of Commerce of Metro Orlando; a member of the board of directors for the Boys & Girls Club of Volusia/Flagler Counties, Inc.; and as a member of the Latino advisory committee, Volusia County School Board. She also has served as past president of the Seaside Music Theater; past president of the Volusia County Trusts & Estates Council; and past president of the Women's Network of Volusia County. In addition, she currently serves as legal counsel for O'Neill Foundation for Community, Health, Inc.; legal counsel for the Florida Chapter of the American Society of Landscape Architects, Inc.; and pro bono, general counsel for Alliance for International Reforestation, Inc. Janet Martinez earned her law degree (J.D., 1978) from Yale Law School and her undergraduate degree from Vanderbilt University (B.A., 1975, summa cum laude.) She brings clients more than 30 years of experience in estate planning, with emphasis on complex tax issues, business succession planning, estate and trust administration, charitable giving, international tax and estate planning, non-profits, and business law. Martinez speaks several foreign languages, but focuses on a bilingual practice in Spanish to best serve the growing Spanish-speaking clientele in the area. She has been published both nationally and internationally. ShuffieldLowman's offices are located in downtown Orlando in the Gateway Center building, and in downtown Tavares, the county seat for Lake County. It is a full service, business law firm, practicing in the areas of corporate law, securities, banking and finance, bankruptcy and creditors rights, land use and government law, real estate, commercial and civil litigation, labor and employment, estate planning and probate, guardianship and elder law, mergers and acquisitions, intellectual property, patent licensing, trademarks and copyrights, tax law, planning for high net worth families with closely held businesses, and environmental law.